Featuring a rich blend of teas originating from Ceylon, Kenya and Assam, English Breakfast Tea is a hugely famous, widely-enjoyed tea loved. English breakfast tea is a black tea blend like Earl Grey tea, but healthier. This royal tea can go well with milk and sugar, in a style traditionally associated with a hearty English breakfast. Not only it isn't just perfect for starting your day, but this black tea is also great to get you through your busy schedule every day. It's bright, full bodied and full of flavour.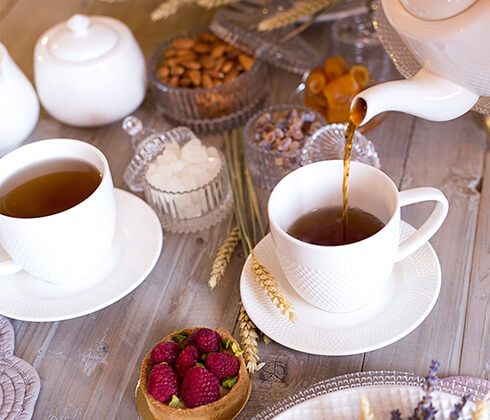 English breakfast tea would originally have been a China black tea. Over time tea blenders incorporated teas grown in India and Sri Lanka as well as Africa and Indonesia. Drinking a blend of black teas for breakfast is indeed a longstanding British custom. So the English started importing Chinese tea in the 17th century and 18th century, this luxurious tea exploded. In the other hands, the first English breakfast tea was a China congou tea.
Around the same time, the British East India Company started producing tea in Assam, India. Jump ahead to the end of the 19th century and tea was also beginning to be produced in Ceylon (now Sri Lanka). And you started to have a strong Ceylon component in English breakfast tea.
There are many steps for you when serving this classic Breakfast Tea
Only uses freshly drawn cold water. Ensure that kettles or water boilers are de-scaled regularly.
Warms teapots with hot water, then pours away.
Uses the recommended number of tea bags or one teaspoon of loose tea per cup.
Always freshly boiling water when adding to tea.
Brews for 3-5 minutes before serving. Stir before serving.
Pours a little milk into each cup before pouring the tea. In addition, sweeten with sugar or serving with lemon slices if you want.